Ah, it's that time of year again – the post Christmas blues and a time for new year's resolutions that nine times out of ten, only last a few weeks. It's also time for me to give you a few tips for the coming year.
I was very interested to find out what the likes of NME and Drowned in Sound thought of the coming year and what bands they're tipping to breakthrough this year. What was interesting was that a lot (if not all) of the bands NME have tipped have already been played on my radio show (check the tracklistings). I don't wish to blow my own trumpet or anything but hopefully it proves something. I know what I'm talking about – sure, there are a lot of people like me on the net blogging these days. Anybody can do it and anybody can do a radio show these days too. Ain't technology a wonderful thing? But I really do stick my neck on the line and play stuff really early on before anybody else picks up on it and I will continue to do that this year.
Here's some new bands that I reckon will either breakthrough this year or will become bigger than they already are (some bands on the list you might have heard of). I've also thrown a few bands in that I think SHOULD breakthrough and I insist you check them out. Anyway, enough blah blah blah from me, here's the list with MySpace links for you to clickety click.
1950s surf rock with huge pop hooks and wicked melodies. VV is going to be huge. In my opinion, I expect her to be as big as Duffy and Amy Winehouse before the year is out. Much like the Ting Tings, I'm not really a huge fan of "pop" music but when it's as good as this, it's hard not to raise a smile.
Electronic psychedelia with spacey and dreamy tunes. This year's MGMT perhaps? They remind me a bit of Secret Machines, which reminds me, they are supporting said band at Islington Academy in February which is a gig I insist you go to. But wait until I get my ticket – I wouldn't want it selling out before I know I'm going…
Probably the most well known act on the list but I do expect this band to become as big as Editors and Snow Patrol in the next few years. With an NME Awards tour slot and awesome debut album "To Lose My Life" due in a few weeks – expect them to blow up pretty quickly. 
Again, quite a predictable choice but like Coldplay, Franz Ferdinand and the Kaiser Chiefs who have also opened the NME Awards Tour in recent years and gone on to better things, I hope and expect Florence and the Machine to follow suit.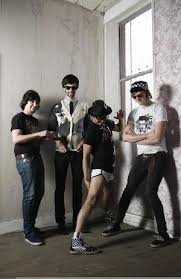 Atmospheric and epic guitar rock in a similar vein to U2, Radiohead and TV On The Radio. Hypnotic in places with vocals that float around your head for hours after you finish listening.
I've played their track "Sleepyhead" on the radio show a few times and I absolutely love it. Certain parts of Passion Pit remind me of Justice and Daft Punk but with the randomness and craziness of The Go! Team thrown in for good measure. I expect them to be a huge hit at the festivals when de-sun be-shining mon. They are supporting the amazing Bear Hands and Hockey in the UK in February. A gig that you should check out!
"Stuck on Repeat" is hugely poppy with the 80s sounding production that is oh so popular right now. It reminds me a little bit of Goldfrapp. I expect "Stuck on Repeat" to be EVERYWHERE. So much so that I will no doubt end up saying how much I am sick of it! But I think the songs are well written and well produced and I expect Little Boots to be very popular this year. Obvious comparisions come in the form of Lady Ga Ga but I think Little Boots has more "edge". She used to be in a band called Dead Disco who were great. Oh and she's pretty hot isn't she? Always good.
Previously known as The Muslims, I played their tune "Parasites" on the show back in November and the other tunes I've heard by them are great. "Parasites" is a hypnotic and ferocious tune that holds a similar atmosphere to "She's Lost Control" by Joy Division. "Nightlife" on the other hand sounds like The Young Knives. Again, not really doing them justice with my words – just trust me! Pavement and The Strokes are another couple of bands that the musical world has labelled them to sound. There's only one way to find out isn't there…. clickety-clickety-click. 
Ah dubstep. It's what all the kids listen to. I must admit, I don't really know much about this genre – I've heard a few tunes that are "alright" but nothing that's really grabbed me. Until I heard "Cockney Thug" by Rusko. It's awesome. I always DJ it now to give people a rest from the 4 to the 4 electro bangers. If Rusko continues to make tunes as good as "Cockney Thug", I reckon he'll be the first to really blow up and make dubstep mainstream.
I always play "Switchblade" when I DJ. I adore it. Heartsrevolution are from New York. Not sure why that matters, but it does have a certain coolness about it doesn't it? And we all know that the NME love cool things – with that in mind, I expect them to be all over Heartsrevolution and rightly so in my opinion. I am not the best at describing how bands sound but in the case of Heartsrevolution, I would label them "Crystal Castles with tunes". Fans of Late of the Pier and Metronomy will love them.
Kitsune strike again. Can this label do anything wrong? I think not. "Quicksand" is absolutely ace and from what I've heard of her album – big things should be expected.
It's nice to get excited about rock music again. Things have been a bit slow in recent years. Dinosaur Pile Up reminded me of Soundgarden and Nirvana on first listen and yes, they do sound like they could easily fit into the early 90s Generation X grunge scene but is that such a bad thing? Post grunge bands like Biffy and Nine Black Alps are great after all and Dinosaur Pile Up look set to prove that grunge is still alive and kicking. That said, it's lazy of me to label them as grunge – they are more interesting than that but as I've explained before and as I'm sure you've established by now, I am not the best at explaining how good/bad bands are and how they happen to sound. All I ask is for you to trust me mmmmmkay?!
I think Telepathe are the band that Ipso Facto are trying to be. Don't get me wrong, Ipso Facto are alright and they certainly look the part but I think the common feeling amongst a lot of people is that Ipso Facto's music tends to get a bit tiresome after a while. Telepathe create a similar moody and sinister atmosphere with arrangements that are really experimental in places but they also have hints that they could easily breakthrough into the mainstream.
You could throw a whole bunch of band names out there when describing The Chapman Family – Sonic Youth and Joy Division are two obvious ones that spring to mind but The Chapman Family have elements of The Futureheads and The Strokes thrown into the mix also – if both bands drank way too much Red Bull. Full of energy and power, they are hugely exciting live and I think that they will explode before the year is out. "Sound of the Radio" has been played on the show in the past and I will continue to play them because they are ace. 
This Brooklyn based band have already had their music feature in an Apple ad which is always a sign that a band are going to breakthrough. I've played "Bruises" on the radio show before and I love it. Ambient and dreamy. Is nice. 
So there you have it… 15 links for you to check out of some artists that I think will blow up this year – some might just become more popular and others might become household names. I could name about 50 new bands that I'm excited about but these 15 are the ones that seem to be creating a buzz in industry circles right now. Of course, I will be playing these bands and many many more on my radio show this year. So stick around…
Actually, seeing as I love you all so much, here's another bunch of  bands:
To The Bones
Eureka Machines
The Ruskins
Baddies
Boats!!
Alessi's Ark
Chew Lips
Rod Thomas
Video Nasties
Bear Hands